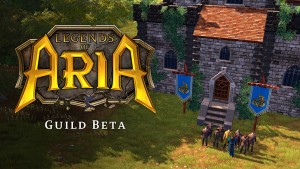 We've had such great feedback from the Bring a Friend event that we thought we'd turn it up a notch. Bring on…the Guild Beta.
What's that? Easy. Instead of you asking for a free trial key, you band together in a group — long established gaming clan, or group of forum friends banding together for the first time, everyone is welcome — and your leader gets a bunch of keys. And these keys aren't for seven days. These are for three glorious weeks.
Of course, as the great Robert Heinlein used to say, TANSTAAFL, my friends. (There ain't no such thing as a free lunch.) In exchange for a three week trial, our Guild Beta Testers are promising to report bugs, and submit feedback via the guild leader three times. Once a week for the duration of the test. Participants also agree that if one guild member is caught using an exploit after more than 24 hours without reporting it, the entire guild is subject to removal from the test.
But other than that and a few other little things…what we want are groups of people, working together to earn their guild house, to establish new towns, to see what the possibilities of a sandbox might be with friends. And the best way to do that is to have people playing in…groups.
Please fill out this form if you are interested: Guild Beta Application
One form per guild, please. This form will disappear on June 22, so get in while you can!